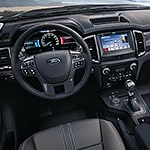 If you're planning to buy a mid-size pickup truck in the near future, the Ford Ranger should top your list of possible options. This popular truck line offers an array of amenities that are sure to make it the ideal choice for your family or business, and you don't have to look any further than Town and Country Ford in Evansville, IN when you're ready to take one out for a test drive.
Whether you need to move work equipment from one place to another or you want to haul a camper for a fun weekend outing, the Ranger can handle it. The Ford EcoBoost engine supplies horsepower to spare, and the smooth-shifting transmission makes tackling even difficult roads a pleasure.
The Ford Ranger has strength and stability built right into its durable steel frame, and its front and rear suspension systems complement each other as they work together to create a smooth, steady driving experience on paved and unpaved roads alike.